Commercial


Video Surveillance
What Our Clients Are Saying
See what our business customers are saying about us!
Let's Work Together
If you are a home builder, real estate broker, architect or insurance agent, learn how you could partner with SSI.
The Industries We Serve
At SSI we provide security solutions to many businesses throughout Fairfield County, Connecticut and New Haven County, Connecticut. Learn more about the business industries we serve!
Contact Us
Have specific questions for us about your business security situation? Give us a call at
203-846-8466
or click below for a free security consultation.
High-Definition, Professional Surveillance
Running any successful business - from a restaurant to a grocery store, retail shop or even service provider - requires many moving parts. It's impossible to have your eyes in every corner, or is it? Commercial Video Surveillance provides you with the essential tool to protect your business inside and out. We have the knowledge and experience to meeting your commercial security needs. 
Positive Verification & Identification
With our commercial video surveillance solutions, you can constantly keep an eye on your thriving business. You can be immediately alerted if an intruder is trying to access the building, providing visual identification to alert the authorities. This can lead to a quick, easier arrest of the criminal as well as can reduce vulnerability of your commercial space in general. 
Inventory Protection & Process Monitoring
Shoplifting and employee theft can have dramatic repercussions on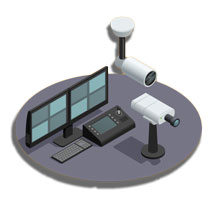 your overall inventory - costing you thousands, even millions of dollars per year. Through video surveillance, you can keep an eye on employees, including behavior and operations. We can help you design a layout for your space that will provide full visuals of the entire area, leaving no corner open to risk, minimize loss and maintain profits. 
Customized Surveillance Plan
Our team at Security Solutions will help you to design a security plan to suits all your needs. We boast the most innovative surveillance technologies, and are able to include more customized options such as remote viewing and access. We're constantly thriving to be the best in the business, staying up to date with the most innovative developments in commercial video surveillance. 
Alarms & Motion Sensing
Receive alerts if any unusual activity is detected - such as unexpected motion or after-hours visitors. Security Solutions can set up your system to automatically alert the police if there is any unwanted activity on the property, so you can maintain full focus on running business.