Minimize Catastrophe With Commercial Fire Alarms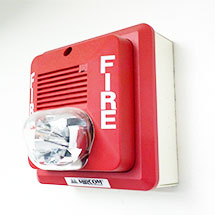 In the course of securing your business against disaster, make sure you don't neglect the basics. Fire alarms go a long way in protecting not only the physical structure of your business, but your employees, your finances and your peace of mind. Rather than selecting the first commercial fire alarm you come across, take some time to really research your decision.
The Two-Pronged Approach
Fires can easily and quickly rage out of control before you even know they've started. Two-pronged alarms are designed to detect smoke, allowing you the chance to catch and stop a potential fire before it gets going. Even better is the fact that there are fire alarms that can contact the fire department for you, letting you focus on evacuating the building and doing what you can to control the fire rather than spending time contacting the authorities.
What to Look For
You may find yourself overwhelmed by the number of choices you have available for alarms. Know there are basic fire alarm components to look for, including:
Indicator light display

Master keyboard

Bell monitor

Damage-proof control panel

Dual phone line
Additionally, do some research into the company that manufactured the fire alarm to see what kind of reputation it has, whether it complies with the latest fire safety regulations and how thoroughly the company tests alarms before putting them on shelves.
Test and Maintain Your Alarm
Once your alarm has been installed, it's a good idea to perform regular tests on it to make sure it's always in working order. Having one of the most well-regarded commercial alarms won't do you or anyone else any good if it doesn't work.
Start your search for commercial fire alarms with the help of an experienced professional. While you can most certainly start your search on your own, satisfaction is guaranteed when you request the insight and opinion of an expert.